Mike's Pro lids
Doughboy Helmet & Flatboy Helmet

If you've been on Facebook or Instagram recently you've seen the Motorcycle Helmet that looks like Baseball Hat!
Want to be safe, don't want a full helmet, but don't feel the style of a bump cap?
Bump cap either look like a half condom or a German Nazi helmet, well check out Mike's Prolids Flatboy Helmets.
A Bump Cap style of helmet design to look like a Fitted Cap.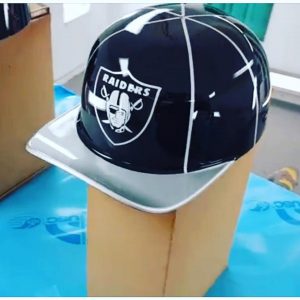 They are not DOT approved to the same standards of a Full helmet but they provide better protection than nothing.
And the Company that put them together can Air Brush them to match you biker design, your favorite team, your MC colors or any design or style you want.
Features:
All the Helmets are made in the US States.
You can wear with Forward or Backwards.
The Liner is Removable and washable
Sizes from Small to XL
Back Story….. How Mike Came up with the Helmet:
Mike's Prolids was created by a Dad just trying to get his kids to wear a helmet. Mike's twin 9 year old boys didn't want to wear a Styrofoam bicycle helmet. They wanted something cooler than a bicycle helmet, so Mike set out to fix this dilemma. The boys wanted something that looked more like a hat, not a helmet. The original prototypes were made in his garage from plaster…. and pretty soon all the kids in the neighborhood wanted one. After such a positive response by the kids and their parents, many prototypes and lots of months of tinkering…. Mike's Prolids was born. Less than a year later, Mike was awarded his patent. Then he partnered with Brett Baker. Now, Mike and Brett have 6 patents and are cranking out helmets as fast as they can.
Video Demonstration
Order from Mike's Website
Contact Mike on Facebook:
https://www.facebook.com/pg/mikesprolids
More Picture of Mike's Pro Lids