New Orleans MARDI GRAS CARNIVAL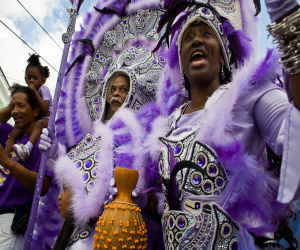 Where: New Orleans
(French Quarters -Downtown Area)
When: February 9-14, 2018
(SUPER TUESDAY IS FEBRUARY 13th)
What to Expect:
The wildest, the biggest free street party in the world. Mardi Gras is a true festival, all races, all having a good time together. It's Mardi, so you already know how it goes down. 24 hours parties, and drinking in public, with a complete line up of event and parade and the ultra, hyped nightlife of New Orlean Bourbon Street!
MARDI GRAS Video
The most popular time to visit New Orleans is the extended weekend before Mardi Gras (February 9- 14, 2018).
Come then and you'll be sure to catch the most popular parades, like Endymion, Bacchus, Zulu, Rex and all of the festive celebrations throughout the whole city. Mardi Gras, or "Fat Tuesday," is the last day of the Carnival season as it always falls the day before Ash Wednesday, the first day of Lent.
Most visitors will plan to arrive no later than Saturday, February 10, 2018 in order to enjoy an extended weekend of festivities