Black Bike Week Motorcycle Shipping
People kept hitting me up asking about shipping and hauling for their bikes. Last year we had a company that did a good job, but they don't seem to be responding to peoples request this year. I found a professional company to help handle shipping for 2011.
This company is big and handles almost every other motorcycle rally
Sturgis
Daytona
Rolling Thunder
Laconia
and more
They are Fully licensed bonded and insured $20,000 per bike "and addition insurance can be purchased".
And best of all, they're a professional! They give you a drop off point, date and time. They professionally secure your bikes, give you a Bill of Lading, then haul your bike down to the beach. When Bike Week is over you drop your bike off, and they ship it back home.
People who stay far form South Carolina been doing this for years. Shipping their bikes, then taking a flight or car pooling to the beach saving them time and hassle.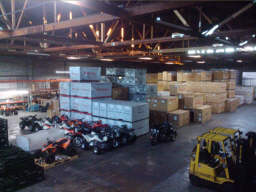 With gas prices sky high, I'm looking into doing it.
Their price aren't dirt cheap "around $200 from DC to Myrtle Beach round trip", but you're paying for professional quality and assurance "not strapped down on your boyz, boy trailer who personal insurance might not cover your bike in accident.
They also have a first person special! First person from a city to get a truck load gets theirs bike shipped for free, but you need to have a truck full "like 12 bikes"! If yall rolling this might save you some money.
So if you looking for professional bike shipping to the beach here you go:
Here are the cities they are shipping form They can also ad new cities if there is enough demand "give them a call":
Arizona
California

Los Angeles
San Diego
San Francisco
San Jose

Indiana
Ohio
Tennessee
Texas

Austin
Dallas
El Paso
Fort Worth
Houston
San Antonio
Contact us at bikeshipping@blackbikeweek.us for more info
Trailer Parking in Myrtle Beach!!
Spread the Word, Share this!
Share
"Help Folk out! Share This on Facebook"