Trailer Parking/Storage During Black Bike Week
Not all Hotels allow trailer parking or have space for large trailers. A lot of people kept hitting us up asking if we new of a safe secure place they could store their trailers during Black Bike Week, so here is the list
Special Bike Week Promotional Parking Specials Available at Myrtle Beach Location! Call for Details! Reservations Accepted!
http://www.storagecentres.com
870 Frontage Road
Myrtle Beach, SC 29577
Phone: 843-626-5600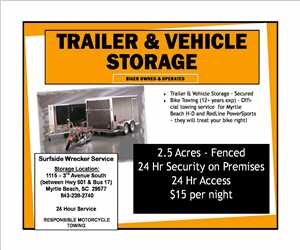 TRAILER & VEHICLE STORAGE
Surfside Wrecker Service - Biker Owned & Operated
1115 3rd Ave South
Myrtle Beach, SC
Phone: 843-238-2740
Resort Stor-All
405 Hwy 17 South
North Myrtle Beach, SC
Phone: 843-249-2872
Rabon Storage
611 Sandy Lane
Surfside Beach, SC
Phone: 843-232-1320
Strand Storage
3195 Hwy 9 E
Little River
Phone: 843-399-4777
Rec & Mini Storage
Charlie Stamper
Phone: 843-357-4250
Even if your hotel has parking for Trailers remember to lock your bikes up!!!
Spread the Word, Share this!
Share
"Share This on Facebook"