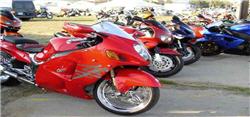 The Myrtle Beach Area Presents: BLACK BIKE WEEK 2014! The Take Over!!
The largest Motorcycle event is the world targeted to the African American Community. As high as 500,000 people attend this event from all over the world!
WHEN?
May 25, to May 28, 2011.
WHERE?
The Myrtle Beach Grand Stand Area in South Carolina
KEY LOCATIONS?
9th Avenue and North Ocean Blvd for the Strip, and 30th and South Ocean Blvd for the street festival.
WHAT TO EXPECT?
A 3 day street party! Bikers, riders, parties, and beautiful people. Customs bike, pimped out cars, all night street parties, and legendary night events. Bring your red bull, and a video camera!
HOW MUCH DOES IT COST?
Hotel rooms average $500 to $700 for the weekend, but you can always shop around to find the best rates.
HOW MUCH SPENDING CASH DO I NEED?
Bringing an extra $500 in spending cash is recommended.
WHO'S GOING TO BE THERE?
Every Major Motorcycle Club, tons of stars, Famous DJ's, and custom bike builders.
Description of Black Bike Week:
Black Bike Week is a one of a kind event. The parties take place from your hotel to the streets, to the club. Everyone has a great attitude, and is in 100% party mode. You can hang around the hotel and party, you can walk the strip and see the beautiful people till the wee hours of the money. You can visit the Atlantic Beach Bike Fest and see vendors, and shows, or you can take to the open road and and join the motorcycle community is the largest rides.
There will be something for every during BLACK BIKE WEEK 2014!
BLACK BIKE WEEK 2014 REVIEWS
"
Black Bike Week is the best to be during Memorial Day Weekend. I been going for 5 years strong and i meet new year long friends each year.
" Jay Row
"
It's Black Bike Week, what else do you need to say. just you tube it!!
" Tim
"
The place to be to start off the riding season
" - Clarence
WHAT HOTELS SHOULD I STAY AT?
The best places to stay are on the strip. North Myrtle Beach and Myrtle Beach Hotels go fast, so reserve your hotel buy using the links below.
Black Bike Week 2011 Myrtle Beach Hotels
OR
Black Bike Week 2011 North Myrtle Beach Hotels
DO YOU HAVE TO BE BLACK TO ATTENT BLACK BIKE WEEK 2012
People ask me this question all the time, Black Bike Week is about all races. Everyone is welcomed at this event
DO YOU HAVE TO HAVE A MOTORCYCLE TO ATTENT BLACK BIKE WEEK 2012
You can have fun rather you riding a motorcycle, scooter, car, or on two feet. But, just as a warning, if you don't ride a motorcycle it would be best is you stay in Myrtle Beach, SC.
Thank you for viewing my page and if you have any question, email me at
blackbikeweek@blackbikeweek.us
or go to our home page.
Spread the Word, Share this!
Share
BLACK BIKE WEEK PICTURES!