Prince Resort
Spread the Word, Share this!
Share
North Myrtle Beach
>
Prince Resort at the Cherry Grove Pier
3500 North Ocean Boulevard
North Myrtle Beach, SC 29582
Nightly Rates (141.25 - 262.75)
Phone 1-800-780-5733 Promo Code: 337435
Black Bike Week Necessities
One the Strip!
Biker Friendly
In the Middle of the Action
Party Spot
Price Resort is one of the hottest Hotel on the North Myrtle Beach Strip. The rooms are nice, the hotel is cool, and it's right up the street from Atlantic Beach.
Reviews:
"Me and my folks stay there every year, and have been for the past 6, we have a good time each year" - annon
"We stayed at Prince Resort last year and loved it!!! We had a very nice 2 brm on the corner very nice." - Natalie
Prince Resort Description
The pools at the prince resort offer something for everyone. At tower 1 the pools are nestled between the tower and the historic cherry grove pier. The pools at tower 2 are set on the 9th floor of the hotel and have stunning panoramic views of the mid-atlantic coastline. From this vantage point you will be treated to views of one of the largest and most beautiful salt marshes on the south carolina coast. The boardwalk beach cafe located on the cherry grove pier open for lunch and dinner delights more casual diners with its grill menu. Both restaurants have lounges. The 3500 grill and the boardwalk beach cafe are oceanfront. Whether viewing the ocean at sunrise or at sunset you will want a camera ready to record the amazing views. Located in serene North Myrtle Beach, Prince provides the perfect waterfront location for relaxing, with plenty of dining options and leisure activities to suit all preferences. Settle into your spacious oceanfront condo. Step out on your balcony for fresh sea air and a breath-taking view. Wander down to the bustling fishing pier. Go for a stroll along quiet marshlands with colorful wood ducks floating nearby. Prince Resort has all the elements for a fabulous vacation: Well-Appointed Condos. Select from comfortable sizes of room styles: king and full-sized beds. All include television, splendid furnishings, full kitchen, spacious bathrooms. Celebrated Customer Service. The friendly front desk agent checks you in and helps with your preferences for children's activities
Prince Resort Amenities
· AM/FM Alarm Clock
· Beach
· Coffee Maker in Room
· Concierge
· 24 Hour Front Desk
· Free Parking
· Internet Access Complimentary
· Iron
· Ironing Board
· Jacuzzi
· Kitchenette
· Lounge
· Modem Lines in Room
· No Smoking Rooms/Facilities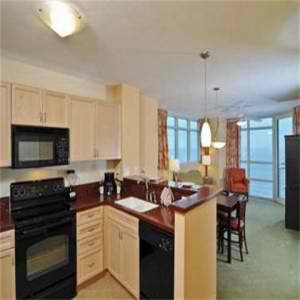 · Pool
· Outdoor Pool
· Restaurant
· Safe Deposit Box
· Telephone
· Television with Cable
Check In/Out times, Number of rooms, number of floors
Check in time is 4:00 PM
Check out time is 11:00 AM
198 rooms. 40% available
19 floors.
From $512.00 for the Weekend -- Only $205.00 Deposit to Hold Your Room!!!
Discounts For Military, AAA members, and Pre-Pay
Count Down to 2011
Room Types
3 Bedroom Ocean Front : 2 Kings 2 Doubles Queen Sleeper Sofa 3 Full Baths Full Kitchen Dishwasher Washer And Dryer 4 Tvs.
2 Bedroom Ocean Front : 4 Doubles Queen Sleeper Sofa 2 Full Baths Full Kitchen Dishwasher Washer And Dryer 3 Tvs
1 Bedroom Junior Suite : 1 King Bed Queen Sleeper Sofa 1 Full Bath Full Kitchen Dishwasher Washer And Dryer 2 Tvs
Book online or call "24 hours a day" to speak with the reservation agent.
Cancellation Policy
Cancel 14 Day Before Arrival. Cancellation penalty is $30 not including tax.

Call 24 Hours a Day 1-800-780-5733 Promo Code: "337435"
Spread the Word, Share this!
Share
"Share This on Facebook"