Myrtle Beach Helmet Law Deemed Unconstitutional, and Noise Ordinance Reduced
Spread the Word, Share this!
Share
The South Carolina Supreme Court decision was announced Tuesday June 8th 2011!!!
Members of the high court invalidated the ordinance because they said it fails to comply with state-wide uniformity laws. Myrtle Beach City Council voted to require motorcyclists to wear helmets while riding their bikes within the city limits in September 2008. The biker ordinance was only one of a series of rules that went into effect the following February, which were aimed at curtailing the bike weeks. Some people argued the city's ordinance went against state law that said helmets are not required.
The group Business Owners Organized to Save Tourism or BOOST filed suit because, members said the law led to low biker attendance at the 2009 bike rallies. That was the first bike rally that bikers were required to wear helmets in the city. The Supreme Court heard the case February 3rd in Columbia. This decision comes three weeks after the annual Harley bike week in Myrtle Beach and just more than one week after the Atlantic Beach bikefest.
The conclusion of the lawsuit states, We find the City Helmet Ordinance fails under implied field preemption due to the need for statewide uniformity and therefore issue a declaratory judgment invalidating the ordinance.
The Judge also ordered that all tickets given to rider for failing to wear a helmet be refunded and all of their records expunged.
Regardless of the Helmet law over 300,000 people visited the grand stand Area for Black Bike Week 2010 and more are expected to return in 2011.
Noise Ordinance Reduced
In Feb of 2011 After a law suit was files against the Noise Ordinance the Myrtle Beach Council reduce the Myrtle Beach noise ordinance allowing for louder vehicles. The new rules sets the decibels limit to 90 "up from 83db" for all vehicles.
Here is a complete break down of the rules and how they affect our event.
List of Rules that Affect Black Bike Week
What Ordinances/Rules were canceled?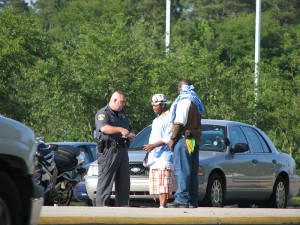 Four Ordinances have been canceled

1. Helmet, and Eye Wear Requirement
2. No alcohol consumption or open possession in parking areas, lots and garages. Business shall not permit.
3. Use of parking lot for non-parking activities a nuisance. No destruction of landscaped areas by chairs, etc.
4. Convenience store and premises security.
What Ordinances/Rules were not canceled?
1. Minor or Juvenile Curfew: 1:00 a.m. to 6:00 a.m.
2.only 2 motorcycles per public parking space and bike must pay parking meters
3. No loud mufflers; EPA labeling required, or maximum 89 decibels allowed at idle measurement.-
Increased to 90db and In court pending over turning.
4. No alcohol served between 2:00 a.m. and 6:00 a.m. Business can exempt from 2:00 a. m. to 6:00 a. m. sale prohibition upon showing of policy or practice that addresses among other things underage drinking, over-serving, internal and premises security -
All clubs and bars are exempt.
5. Defrauding a restaurant is a misdemeanor.
6. Short term rental, payers of accommodation tax, innkeeper or hotel check-in procedures; photo id for check-in; identification of all guests per room, identification of all vehicles; issue parking card.
- You need id to check it, and you have to get a parking pass for all cars
7.No loitering on commercial lots after hours, or when posted.
How this affect Black Bike Week?
Remember, Nothing at all was changed in North Myrtle Beach, or Atlantic Beach for Black Bike Week!!!
In South Myrtle Beach you don't need a helmet, you can post up "outside hotels and parking lot", and have a open drink on private property"
The Laws still in effect are "common sense laws"
The helmet law was the only rally killer, the other laws were just fluff to help the helmet ordinances pass. The loud pipes law is a small issue, unless you're sitting still revving you should be good, but be careful. The noise ordinance is being appealed in court by the same lawyer that over turn the helmet law.
Don't let over people who don't know what they are talking about scare you from going!
All South Carolina Motorcycle Laws
This is just general stuff:
List of all Motorcycle laws for the State of SC.
Give us your feedback!!
Source: http://www2.scnow.com/scp/news/local/grand_ strand/article/myrtle_beach_helmet_law_ deemed_unconstitutional/182432/
Spread the Word, Share this!
Share
Spread the Word and Share!! Help others get informed!