Spread the Word, Share this!
Share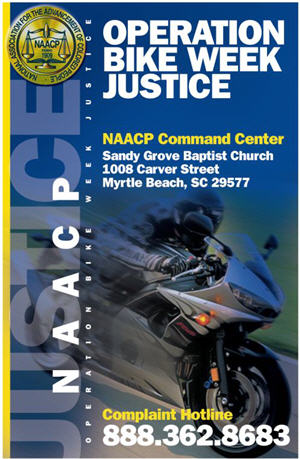 The National Association for the Advancement of Colored People (NAACP) will be monitoring how black folks are treated during Black Bike Week 2011!!
The Attached Flyer has the Operation Bike Week Justice hotline number in case individuals are faced with discriminatory practices.
The NAACP will also have a press conference on Thursday, May 26, 2011, at 11:00 a.m. at the Myrtle Beach City Hall and want to invite bikers to come out and participate.
The Hotline number is 1-888-362-8683
Address:
Sandy Grove Baptist Church
1008 Carver Street
Myrtle Beach, SC 29577
Note:
Note: the NAACP will not stop you from getting locked up or a ticket for thing you deserve LOL
So Respect the Laws
No Ope Containers
No DUI, DWI
No Drugs
No Fights
No Speeding
No Reviving
No acting Stupid!!!!
Have fun and be
Grown and Sexy
About it!!!
Spread the Word, Share this!
Share
Laws:

South Carolina Code of Laws
SC code : Title 56 - Motor Vehicles